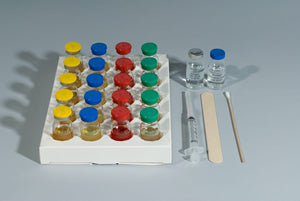 Product Downloads
Availability:
Regular formulation:  In-stock & ready to ship
Marine formulation:  Requires 2-week lead-time
For initial analysis of samples when the cause of corrosion is unknown and MIC is suspected.
Use in situations where aerobic and anaerobic environments may be present. 
Ideal for testing samples from internal portions of oil and gas facilities.
May be used with BTI Products' MICkit® 4 when chemical information is also needed.
Type of Samples Tested Using This Kit:  All samples, especially those from facilities where aerobic and anaerobic conditions may be present and traditional test media, including aerobic media, are desired.
# Samples Tested Using One Kit:  1
Shelf-life:  1 year
Weight:  3 lbs
Use to enumerate viable bacteria belonging to the following groups:

Aerobic bacteria (AERO)
Anaerobic bacteria (ANA)
Acid-producing bacteria (APB)
Sulfate-reducing bacteria (SRB)

Detection range:  1 to >10 million bacteria of each type.  Additional bottles can be used to extend the detection range. 
See Products>Microbiological Media for descriptions of media and organisms.
All materials necessary to collect samples and run tests
Complete instructions