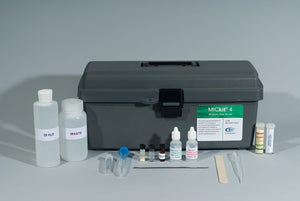 Product Downloads
Availability
In-stock & ready to ship
For initial analysis of samples when the cause of corrosion is unknown and chemical information is important in diagnosis and treatment.
Ideal for most industrial applications including:  cooling and other industrial waters, nuclear power, pipelines, and storage tanks (especially where cathodic protection is being used).
We recommend using MICkit® 4 in conjunction with BTI Products' Microbiological Test Kits.
Type of Samples Tested Using This Kit:  All samples
# Samples Tested Using One Kit:  10
Shelf-life:  1 year
Weight:  4 lbs
Use to quantify/qualify the following chemical parameters: 
Calcium
Carbonates
Ferric iron (Fe3+)
Ferrous iron (Fe2+)
pH
Sulfide
All materials necessary to collect samples and run tests
Complete instructions
We offer quantity discounts. Contact us for details.