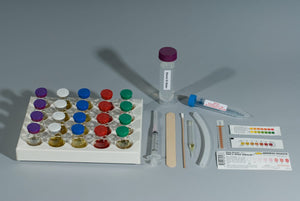 Product Downloads
Availability
Regular formulation:  3-5 business days
Marine formulation:  Requires 2-week lead-time
For initial analysis of samples to aid in diagnosing MIC and other corrosion problems. 
Use in situations where aerobic conditions predominate and/or low nutrient conditions are present.
Ideal for most industrial applications including:  industrial and potable water supplies, cooling waters, nuclear power, hydro-power, cutting and hydraulic fluids, fuels, and samples from external portions of oil and gas facilities.
Type of Samples Tested Using This Kit:  All
# Samples Tested Using One Kit:  1
Shelf-life:  1 year
Weight: 

 

3 lbs
Use to enumerate viable bacteria belonging to the following groups:

Anaerobic bacteria (ANA)
Acid-producing bacteria (APB)
Iron-related bacteria (IRB)
Low nutrient bacteria (LNB)
Sulfate-reducing bacteria (SRB)

Detection range:  1 to >100,000 bacteria of each type.  Additional bottles can be used to extend the detection range.
See Products>Microbiological Media for descriptions of media and organisms.
Use to quantify/qualify the following chemical parameters: 

Alkalinity (total)
Carbonates
Chloride
Chlorine (free residual)
Hardness (total)
Iron (total)
Oxygen (dissolved)
Particulates
pH
Sulfide
All materials necessary to collect samples and run tests
Complete instructions