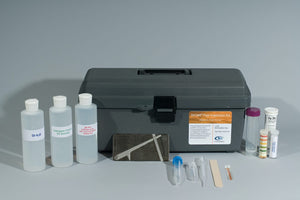 Product Downloads
Availability
3-5 business days
For physically inspecting pipes in systems that have tested positive for MIC-related bacteria and/or systems with a history of leaks/failures.
Information from the MICkit® Pipe Inspection Kit is vital in choosing an effective and safe cleaning/treatment package and in determining if equipment integrity is sufficient to continue in service.
For use in all industrial systems—especially FPS, tanks, and heat exchangers.
Type of Samples Tested Using This Kit: 

 

All
# Samples Tested Using One Kit:  15
Shelf-life:  1 year
Weight:  5 lbs
Use to determine the following physical characteristics of corrosion and deposition:

Distribution—where in the system problems are occurring
Severity—how severe corrosion is (% pipe wall loss)
Chemical composition of any deposits—what deposits are made of
Removal of deposits by chemical agent—will cleaning agent will effectively and safely remove deposits

Use to quantify/qualify the following chemical parameters: 

Carbonates
Chloride
Iron (total)
pH
Sulfide
All materials necessary to collect samples and run tests
Complete instructions