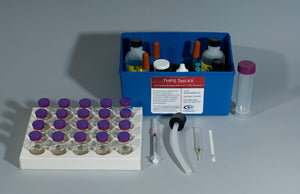 Product Downloads
Availability
3-5 business days
Use to monitor waters or other fluids from FPS treated with MICtreat® FPS Chemical.
Type of Samples Tested Using This Kit:  Water or other fluids
# Samples Tested Using One Kit:  10
Shelf-life:  Approximately 1 year on all kit components except iodine, which has a 6-month shelf-life.  Iodine can be replaced without replacing the entire test kit.
Weight:  7 lbs
Use to enumerate viable bacteria belonging to the following group: 

Low nutrient bacteria (LNB)

Detection range:  1 to >100 LNB.  Additional bottles can be used to extend the detection range.
See Products>Microbiological Media for descriptions of media and organisms.
Use to quantify the following chemical parameters: 

Oxygen (dissolved)
THPS (active ingredient in MICtreat® FPS Chemical)
All materials necessary to collect samples and run tests
Complete instructions
Iodine refills available for this kit.  Contact us for details.