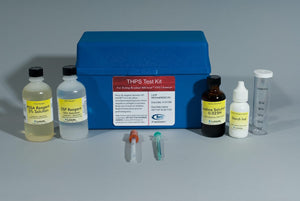 Product Downloads
Availability
3-5 business days
Use to determine residual chemical (THPS) levels.
Type of Samples Tested Using This Kit:  Water or other fluids
# Samples Tested Using One Kit:  Approximately 30, dependent upon PPM levels tested
Shelf-life:  Approximately 1 year, except iodine which is approximately 3 months 

(Iodine refills are available)

Weight:  3 lbs
Use to quantify residual THPS.
All materials necessary to collect samples and run tests
Complete instructions
Iodine refills are available for this kit.  Contact us for details.